Recently, I moved into a new position at work where I am managing a team of 17 people. I've worked in this position before, so I knew that I was going to need an inbox at my desk so I could keep up with everyone.
I picked up a plain black wall mounted mailbox at
Lowe's
.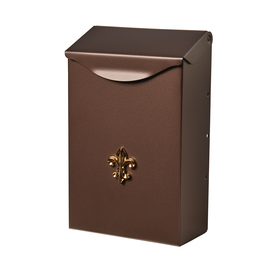 I had some leftover aqua spray paint laying around, so my darling husband spray painted it for me.
After we painted the mailbox I used my Cricut to cut out an "M" with the
Calligraphy Cricut Cartridge.
I used some hot pink vinyl that I had laying around for the "M". Since I am using this to hang on the inside of my cubicle, I wasn't too concerned about using heavy duty vinyl, but if you are using it outside I would suggest using some
outdoor grade vinyl
. I love the idea of having a fun custom mailbox hanging next to my front door. I may need to make one for home!
Anyway, I hung it up on the outside of my cubicle and now my team has a place to leave me notes throughout the day. And I have a fun cubicle decoration. :)